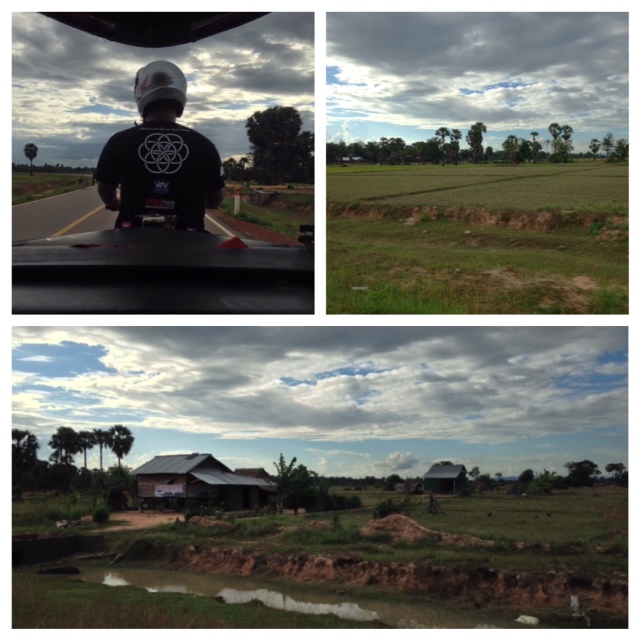 Friday 7 August
One of the best parts of running 1step1life is working with the incredible people I get to work with. From Pheakdey, to my incredible family and exec team, each and every person has given me a huge amount of pleasure in working with them. So today it was very different when I found myself for the first time in almost 12 months alone here in SR. Pheakdey and his family headed off for their much deserved, supplemented 1step paid holiday, to Sihanoukville and obviously all my family is back in Australia.
It was such an unusual sensation being back to where it started just me and a tuk tuk driver. I called Voleak (my tuk tuk driver) and asked him to take me to Angkor Kids Centre as I wanted to catch up with Cham and others. As we weaved through the thick air of Siem Reap City, we broke into the shaded roads that lead to Angkor, I found myself staring right, waiting for Angkor Wat to rise above the trees like I hadn't for so long. I'm not a super hippy type person, but as I saw the central tower of Angkor I had this sense of excitement and goose bumps that I hadn't since the first time I saw it. I'm not sure if it was because it's peaceful beauty was more prominent because of the fast paced week I have had or if it was because I was alone in my own thoughts. As we wound through the roads out to AKC again I found myself lost in the sounds of the bike engine ticking over, staring, as the simple, yet ever interesting surroundings flowed by.
I was welcomed by Cham, Hak and Chork. Cham was so incredibly excited to hear that Aussies loved his artworks and he was simply beside himself about the new materials we bought for him (special thanks to those who support Cham). Chork was as shy as ever, but today was really special as the school hadn't open yet as I was there early so it was only us. It felt like it did the first time I began 1step1life. I was out in a village, talking with the incredible people we currently support and those we want to in the near future. Hak is such an incredibly mature person for someone my age, his knowledge of those in the community is unmatched. In line with those skills I have asked if he will help myself and Pheakdey come up with education plans for those we support now and in the future in that village. Priority is getting Cham to art school and Chork to English classes.
It wasn't a hugely life changing day, but it did give me the boost of energy I sometimes need. It was so nice to get a break from being a manager and being able to jump in the back of a tuk tuk solo and have genuine personal chats with genuinely incredible people. As I said in the opening that certainly does not mean that I don't adore my team and working with them here, but rather it is nice to get a chance to sit back, watch the country I love so much go by and take a second to realise why and what I have achieved here.
Tomorrow is the start of a new big adventure. I am being picked up at 9:30am to make the long trip to Phnom Penh, to pick Scotty and Hayden up on Saturday morning to then head to Sihanoukville. It has been so heartwarming to realise all the support we have both here in Siem Reap and Australia for this ride. 800km is not going to be an easy task at all, eating and sleeping locally with make that even harder. But it is a testament to the courage and dedication of Scott, Hayden and Pheakdey. A courage and dedication they will soon learn is shared by so many Cambodian's who are simply trying to survive in a tough old world.
Much love everyone.
Watch this space! Jake